---
Let us share our top 5 free affiliate marketing tools for beginners. We use these tools to create content for our site. Although these tools are free, we also provide you with the paid option—should you need a better feature for your business.
Without further ado, let's dive in!
The first free affiliate marketing tool for beginners on our list is Grammarly. It's the best writing assistant on the internet, period. Nothing can beat a writing assistant that helps you:
Simplify your writing
Achieve your writing goals
Correct your spelling and grammar
Analyze the formality of your writing
Analyze your writing's intention
Analyze how your writing sounds to the reader
Write with confidence
Since English is not our native language, having Grammarly is like having a private English teacher sitting next to us. Signing up is free, and you can use it right away. Currently, Grammarly is available on both macOS and Windows.
We love Grammarly because we can use the browser extension on Safari or Chrome. It's handy, and we always turn it on whenever we want to write. You can use the extension on Mozilla Firefox, too.
Furthermore, Grammarly is also available on Android and iOS. You can confidently reply to an email, messages, and many more.
Grammarly Pricing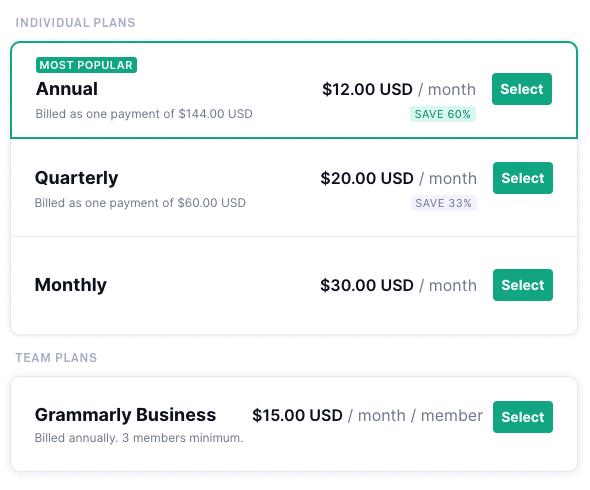 The only major downside with the free version is the inability to instantly correct advanced issues with your writing. The free version of Grammarly only covers basic writing suggestions such as spelling, grammar, and punctuation.
That's why Grammarly also has a pricing plan for premium users and businesses for teams of 3 to 149 people. Grammarly Premium will cost you $12 a month if you pay annually. Otherwise, you need to pay $30 monthly.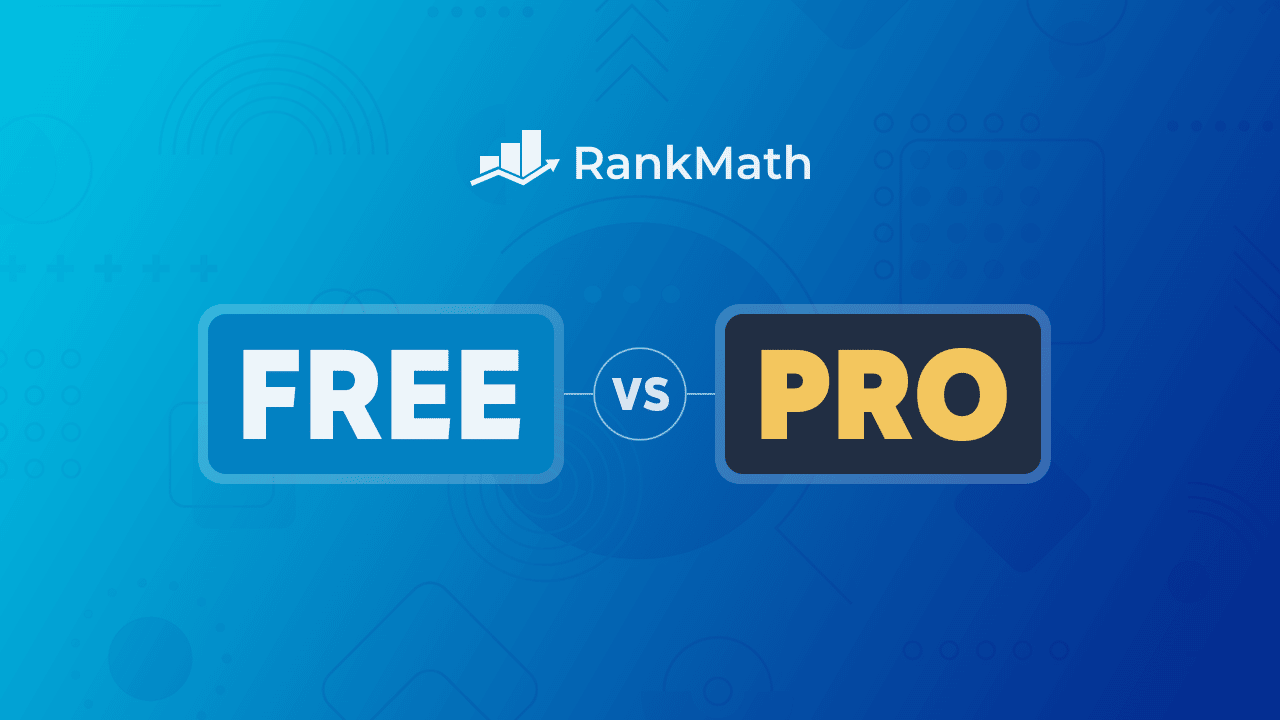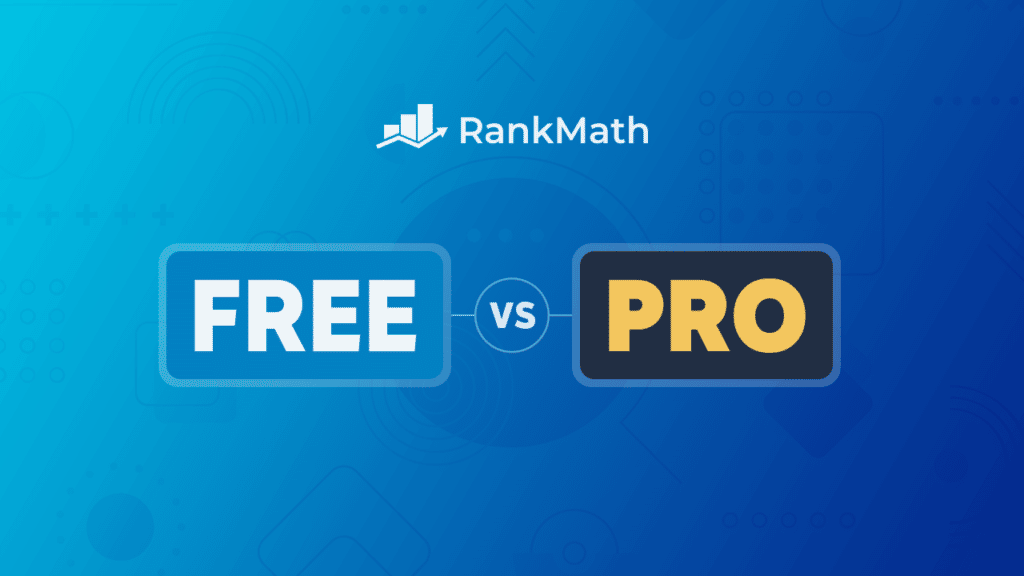 The second free affiliate marketing tool for beginners is a WordPress plugin called Rank Math. For us, it's the bread and butter for our website to rank on search engines.
As you already know, getting your site on top of search engines is essential for every affiliate marketer. That's why having a free SEO plugin like Rank Math helps you achieve that outcome.
With the free version, you'll get a lot of great features, such as:
18 Pre-defined Schema Types
Clean User Interface
Simple Setup Wizard
Advanced SEO Analysis Tool
SEO Analysis Score
Redirections
Moreover, if you currently use other SEO plugins, you can easily import every setting using the 1 click import feature on Rank Math. This feature is available for Yoast, AIOSEO, and SEOPress.
We love using Rank Math because even if you know nothing about SEO, you'll be able to improve your SEO score with this plugin. It's like having an SEO expert guiding you through every process.
That's how great this plugin is. Just download and activate Rank Math on your WordPress, and you'll love it as much as we do.
Rank Math SEO Pro Pricing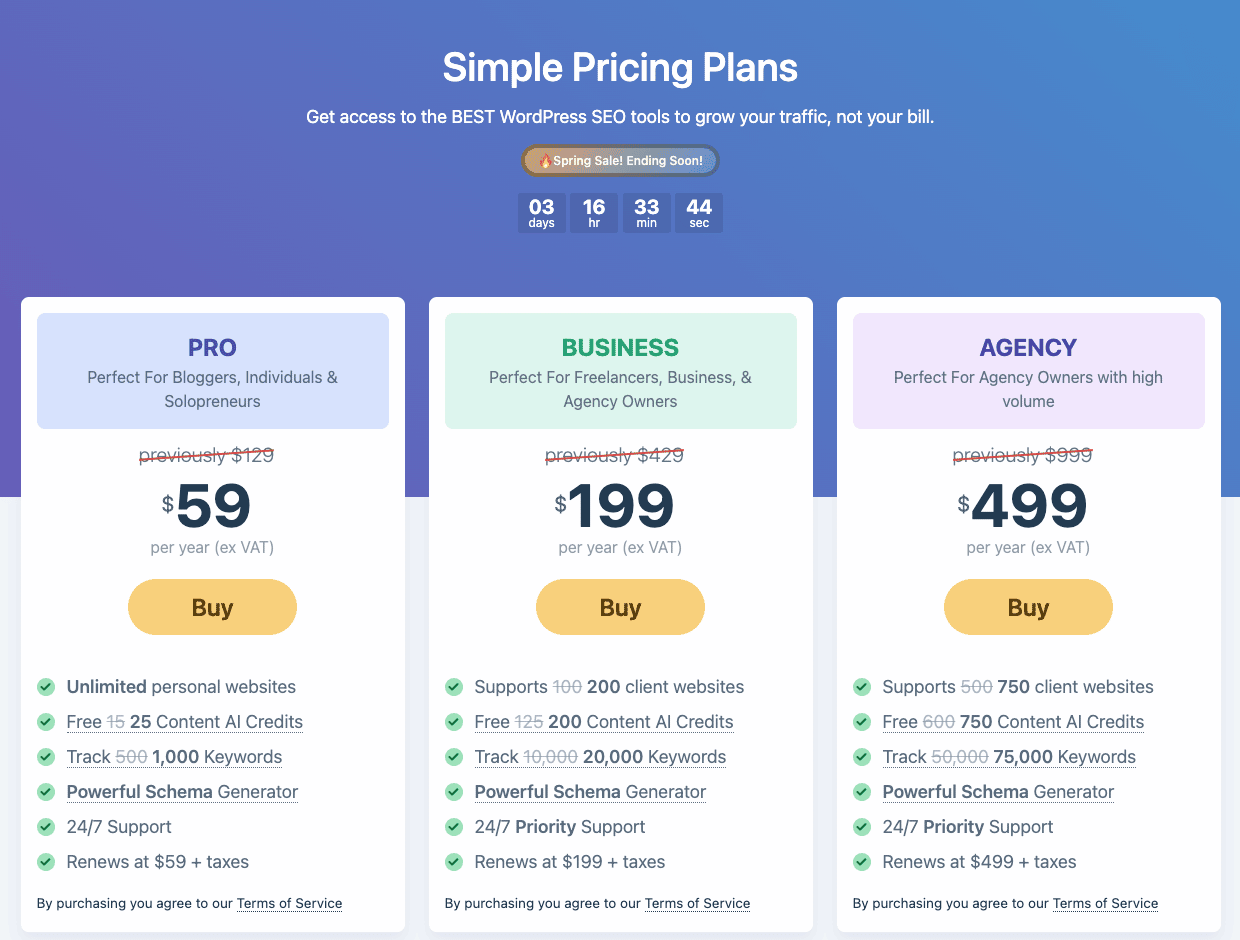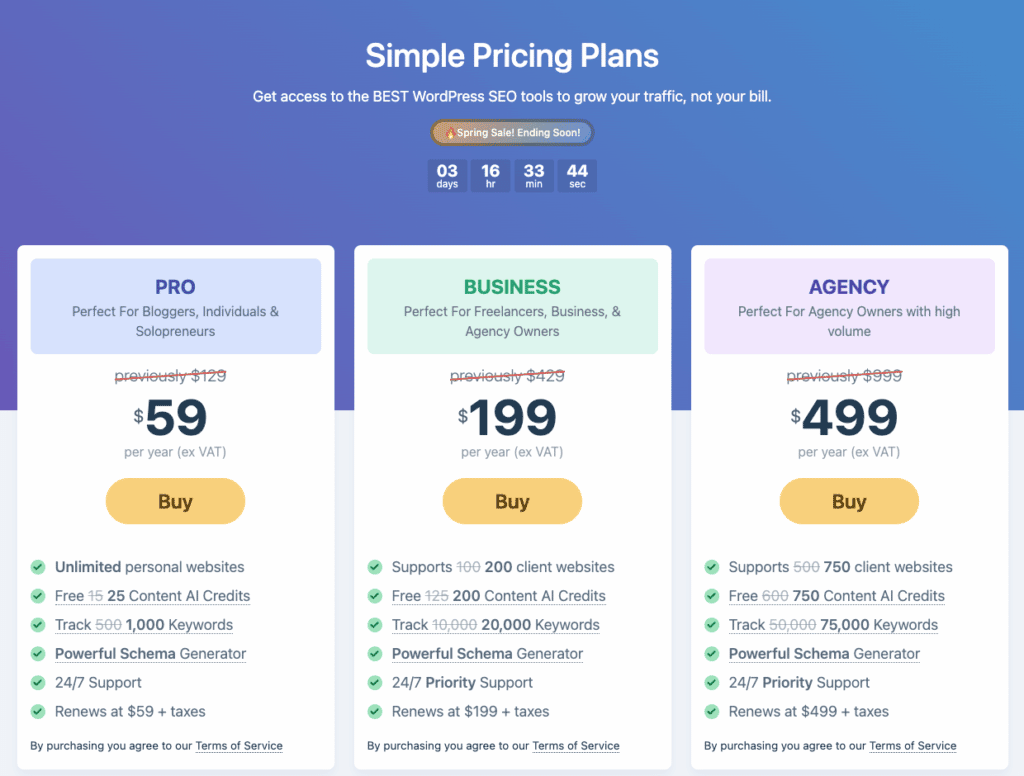 If you need more features, you can always upgrade your Rank Math SEO license based on your needs. There are three pricing plans, as you can see from the screenshot above.
With the Pro version, you'll get more powerful features such as:
Advanced Google Analytics 4 Integrations
Keyword Rank Tracker
Advanced Schema Generator
Google Trends Integration
At $65,49 per year (including tax), you'll get the best WordPress SEO plugin on Earth at less than $5,5 per month.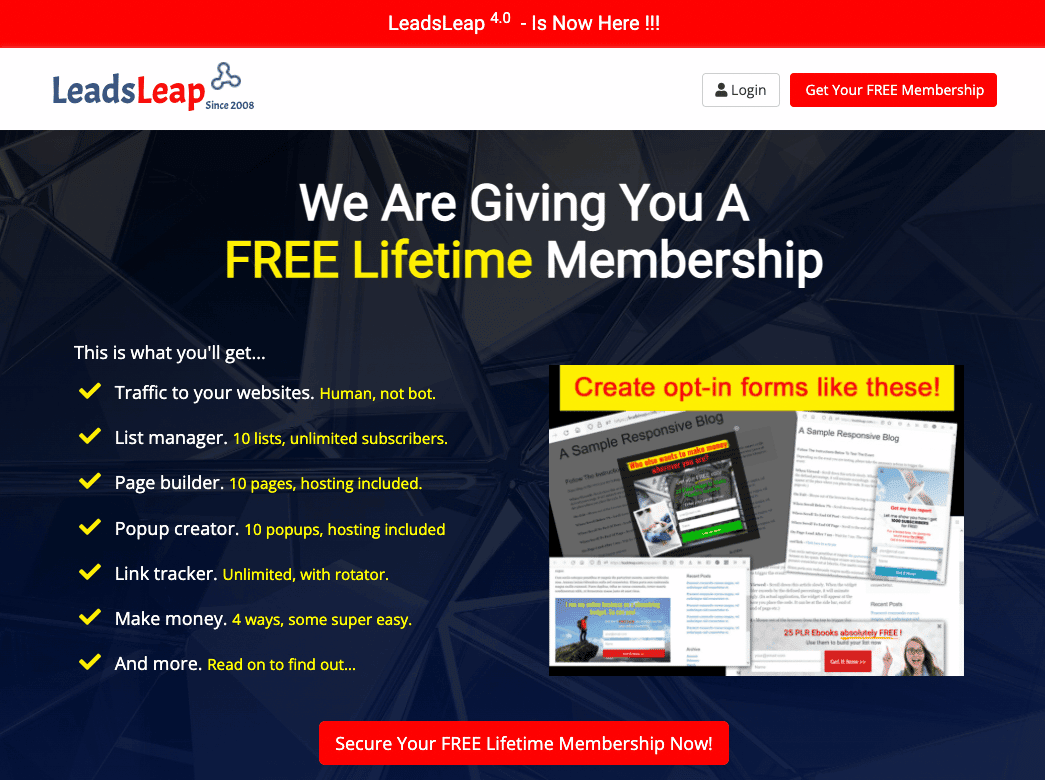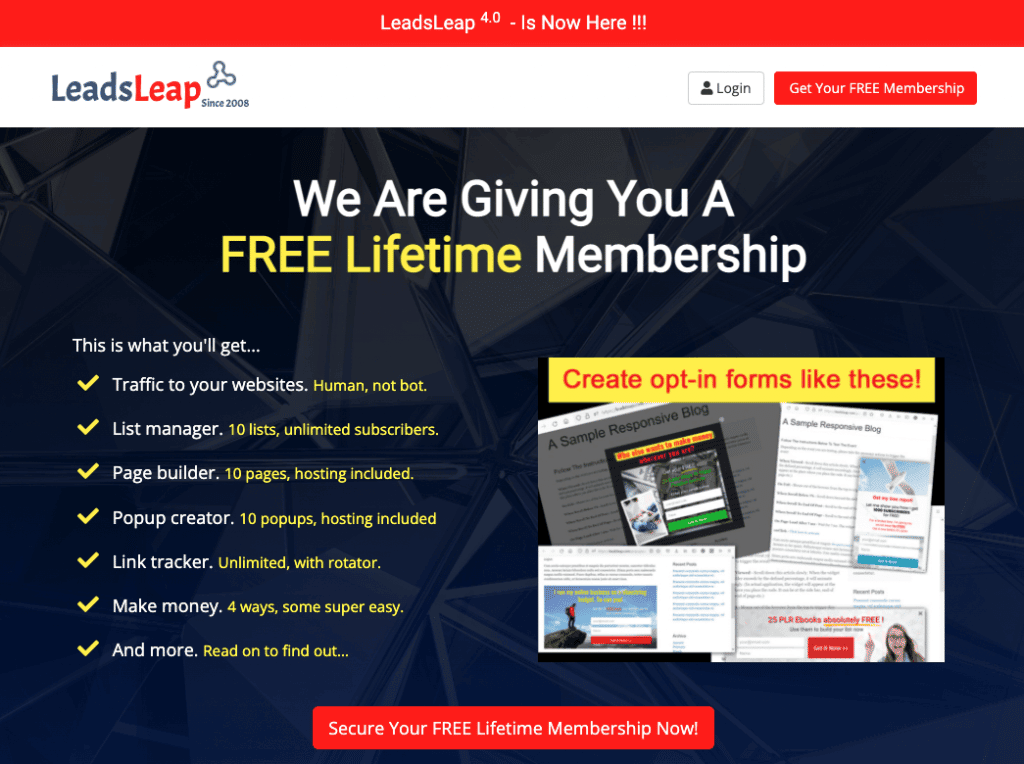 If there is one tool that serves as a swiss-knife in affiliate marketing, it has to be LeadsLeap. It's a traffic exchange site with plenty of free features you can use, such as:
Link Tracker
Email Marketing
Page Builder
Opt-in Generator
Imagine this situation for a second. You can generate a custom sales funnel to capture leads and send up to 10 broadcasts to your leads every month for free. Furthermore, you can also create a popup opt-in form for free and use it on your website without paying anything. How cool is that?
LeadsLeap Pro Pricing
If you'd like to access more features of LeadsLeap, including a Funnel Builder and 24/7 advertisement to your affiliate link, upgrading for less than $20 a month is a wise option.
Furthermore, you don't want to spend too much time browsing for credits and let the traffic run on autopilot. Currently, we get around 3,500 – 4,000 traffic every month with LeadsLeap Pro.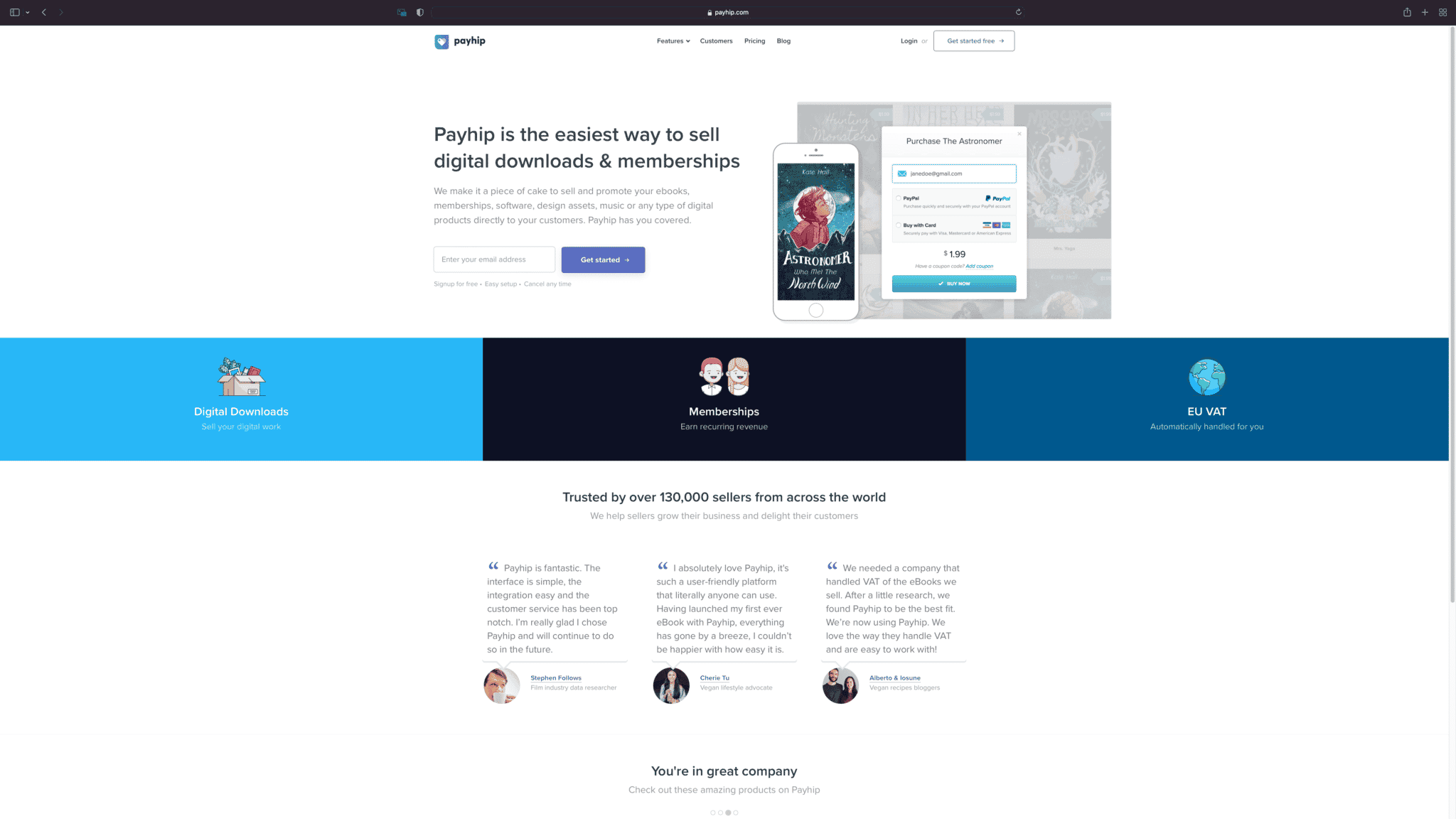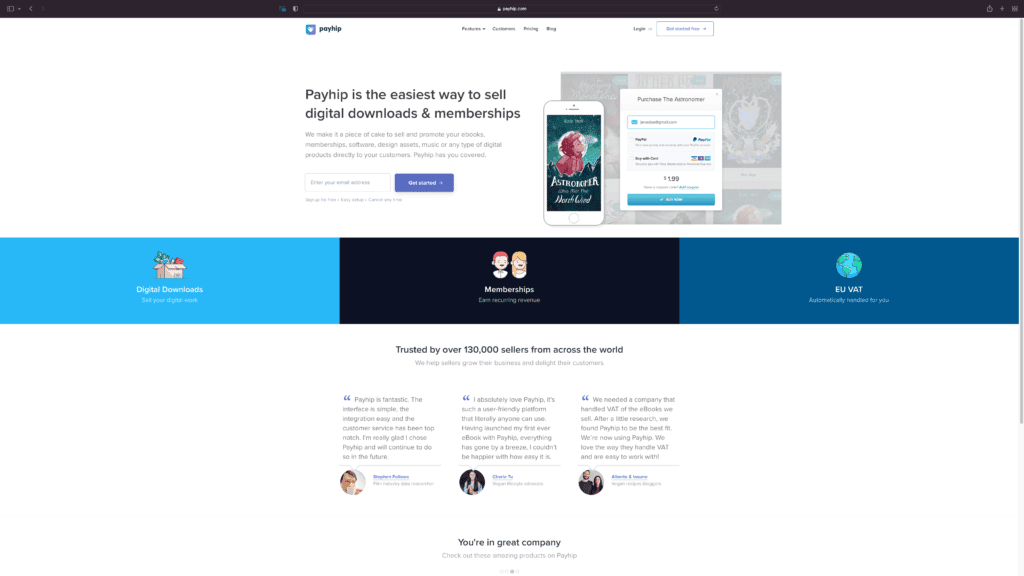 The fourth affiliate marketing tool on our list is probably one of the most underrated platforms to sell digital products online. With Payhip, you can create an online course and sell digital products like ebooks. You can also sell consulting services with this platform.
The beauty of selling digital products or services is that you can earn money straight to your preferred payment processor account. Currently, Payhip accepts payments from PayPal and Stripe. Moreover, with a low 5% commission fee, it's easily one of the best options compared to similar services.
Payhip Pricing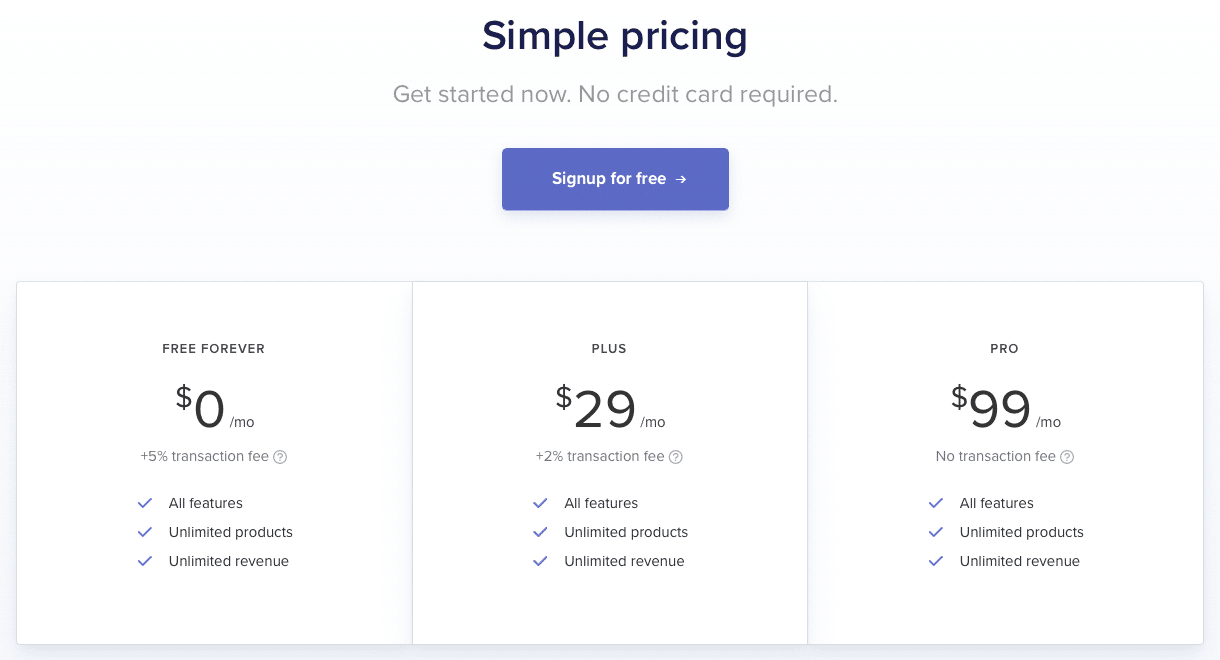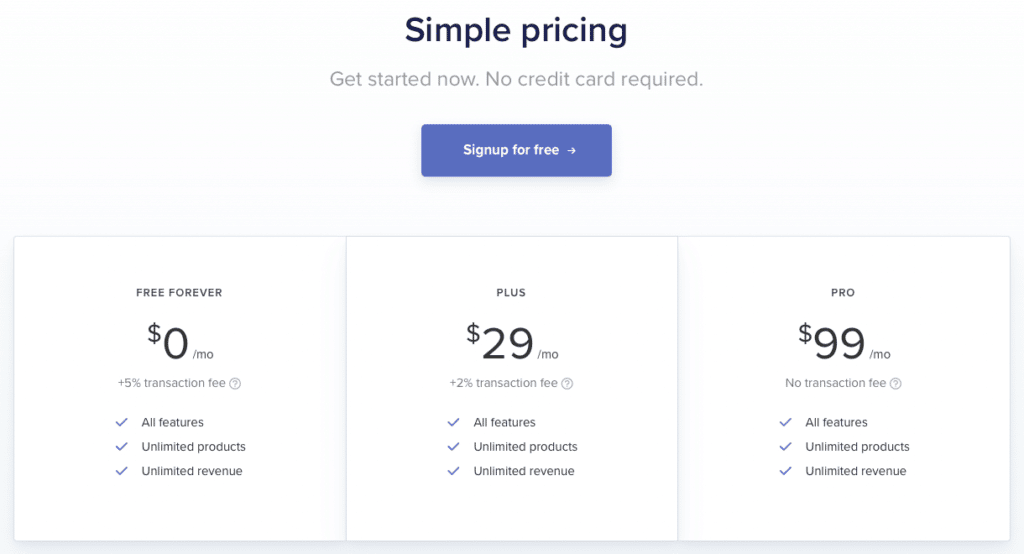 If you already earn a stable income from your online store, it's a good idea to upgrade your Payhip membership to reduce the commission fee. With $29 per month, you can reduce the transaction fee from 5% to 2% for each sale. If you don't like having transaction fees, you can upgrade to the Pro plan by paying $99 per month.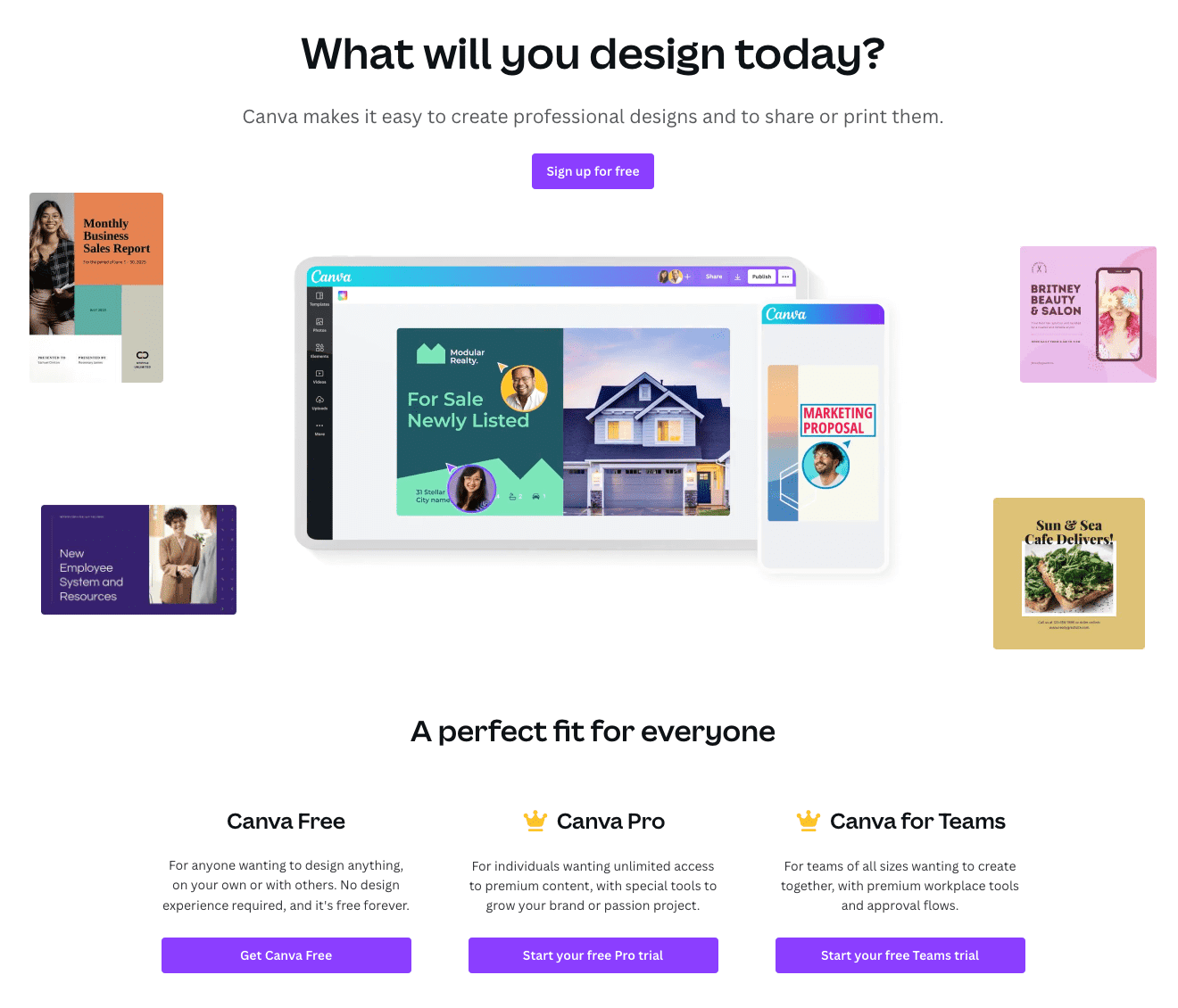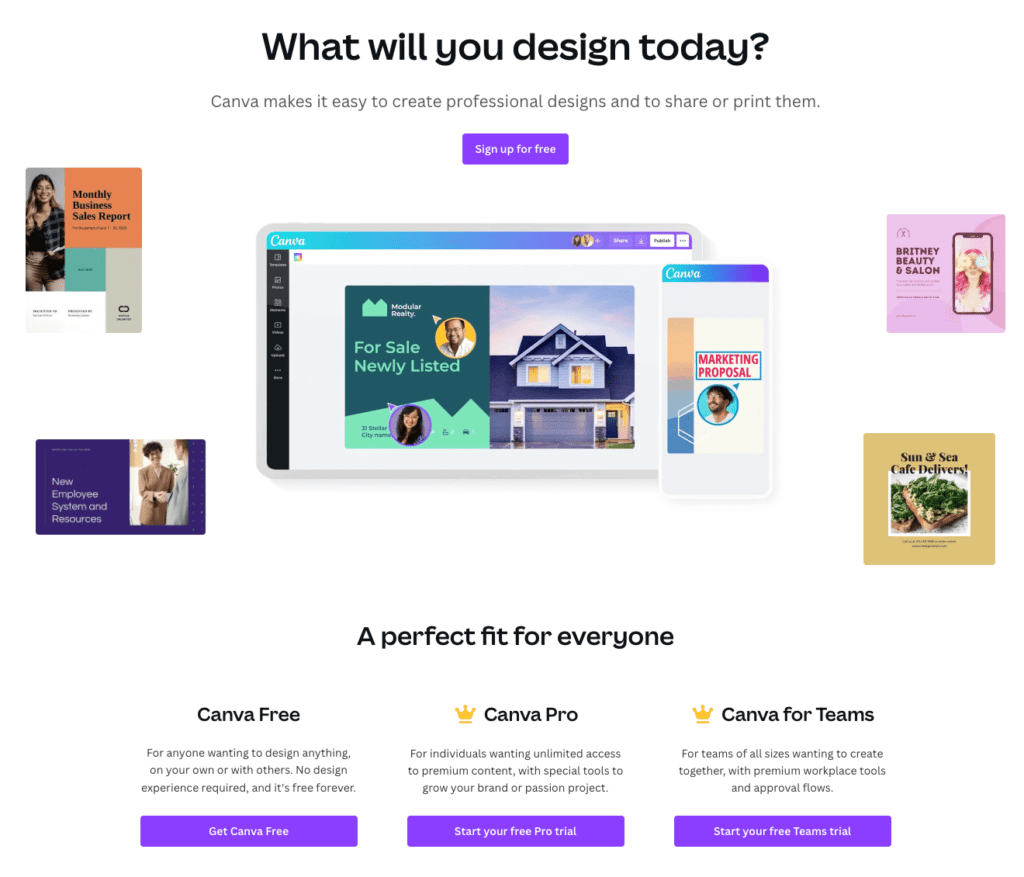 Finally, the last free affiliate marketing tool in our arsenal is Canva. If you need to design graphics for your website, there is no free tool better than Canva. If you'd like to create social media posts for Instagram, Pinterest, Linkedin, or even YouTube thumbnails, Canva is the best free option available.
With more than 250,000 free templates, more than 1 million free photos and graphics, and 5GB of cloud storage, you can't go wrong with Canva.
Canva Pro Pricing
If you'd like to upgrade and access more premium templates and images, upgrading to Pro is recommended at an affordable price of $12,99 per month or $119,99 per year. You can use this plan for up to 5 people. In other words, you can split the payment with your friends or colleagues and will only pay less than $3 a month.
Conclusion
In conclusion, there are many free tools that you can use as an affiliate marketer. These are the essential tools in our arsenal that we use daily. However, if you want to upgrade your plans from one of these tools we recommended, please consider all the pricing plans are suitable for your needs.
---